Dehumidifiers
By removing moisture from the air, dehumidifiers regulate humidity and create comfortable living conditions that are inhospitable to dust mites, mold, mildew, and other allergens. Home dehumidifiers come in a variety of sizes, models, and styles. Each unit is built to tackle unique humidity problems. We offer dehumidifiers for all applications from small dehumidifiers that fit under your sink to our industrial-strength dehumidifiers for commercial use. Dehumidifiers reduce allergens by controlling humidity in your home, but they also can be used in basements, crawlspaces, bathrooms, laundry rooms, museums, and indoor pool areas to maintain humidity levels and to keep these areas dry and comfortable.
Aprilaire Basement, Crawlspace & Whole House Dehumidifiers
Dri-Eaz Dehumidifiers & Restoration Products
Portable and Mini Dehumidifiers
Home Dehumidifiers and Room Dehumidifiers
The Danby 70 pint dehumidifier cover up to 1000 square feet. They feature electronic controls, Energy Star compliance, and a direct drain option for continuous operation. It is relatively quiet and works well in low temperatures, down to 44F before performance starts to taper off.
Aprilaire dehumidifiers are your best option for whole home dehumidification. With several porting options, easy to use controls and a high water removal capacity, Aprilaire dehumidifiers can keep your entire home free of excess moisture.


Commercial and Industrial Dehumidifiers

Dehumidifiers are not just for use in your home. We offer a variety of commercial and industrial dehumidifiers for crawlspaces, water damage restoration, and HVAC use. Ebac dehumidifiers and Dri-Eaz dehumidifiers are well-suited to remove excess moisture in work environments. Ebac dehumidifiers can be used in harsh weather conditions, extreme cold, and for quick drying water damage and restoration projects.
Additionally, we provide condensate pumps that work with dehumidifiers to pump the water extracted by a dehumidifier out of your home, basement, or crawlspace. These pumps are often used in places where a simple gravity drain will not suffice (i.e. using a dehumidifier in a below ground basement). Regardless of the size of your humidity and moisture problem, we have a dehumidifier to meet your needs and expectations.


Portable, Mini Dehumidifiers and Accessories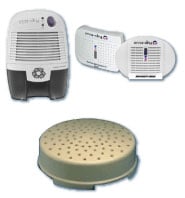 Our Eva-Dry Mini dehumidifiers feature a crystallized gel that absorbs moisture in small, enclosed areas like bathrooms, closets, and under sinks. These silent dehumidifiers are 100% renewable and do not require power for operation.

The Eva-Dry 1100 Petite dehumidifier works more like a traditional dehumidifier. This unit uses electricity and it has a spill-proof reservoir that collects the moisture. The Eva-Dry Petite dehumidifier is very quiet and easy to use.

The Air Dryr Portable dehumidifier is completely silent and easy-to-use - perfect for the home, office, boat, or camper. Weighing only two pounds, it is convenient, portable, and energy efficient. Plug it in and forget about it...there is no bucket to empty! Works in areas up to 100 square feet.

Condensate pumps are an inexpensive solution to use when there are no drain lines readily available for your dehumidifier to empty into or when gravity is working against you.


Helpful Information about Dehumidifiers